White Rock Running Co-op - Real Grass Roots Running Group in Dallas, Texas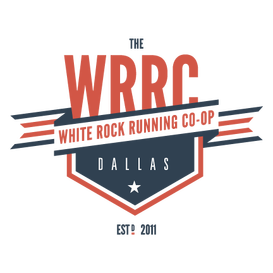 Hello friends and fellow runners!

We've heard what you've had to say. You love to run, train, and race. You love happy hours, breakfasts, and meeting people. You love to have fun. You love flexibility, variety, and options if you miss a run.
In January of 2011 we formed the White Rock Running Co-op and had a successful year of growth. In 2012 we hosted a private movie night for Hood to Coast
, took a large group to the Eugene Marathon, hosted runs with Dean Karnazes and Dane Rauschenberg, did a summer "Run My Hood" series, volunteered at numerous races, held a charity movie night for our fellow runners in need, had a booth at the Dallas Marathon expo, ran lots of miles, achieved lots of PRs, and had lots of fun. In 2013 we did more of the same and had numerous social events benefitting North Texas Food Bank, Texas Scottish Rite Hospital for Children, and The She Guys and Gals.

Since then we have seen a great number of new faces join the Coop. Most who have come out, have met one or more their goals, including achieving their PRs, getting in shape for worldwide scenic races, hitting their weight and fitness goals, achieving their "BQ" (Boston Qualification), and/or simply creating new friends.
What is the White Rock Running Co-op? The WRRC is a non-profit group of runners dedicated to working together for the sake of training, fitness, and friendship. All members of the co-op contribute towards achieving the goals in whatever way fits their abilities, schedule, and desires. The WRRC membership is free so it relies on its members to provide whatever leadership, supplies, and skills are needed to make the group a success. Members agree to only expect that which has been promised and to deliver on all promises made.
Following are a few guiding principles behind membership in the WRRC:
1. No member shall solicit nor profit from members of the WRRC.
2. All runners are welcome to run with the WRRC but are encouraged to contribute to the group by identifying a need or desire then filling the same
3. All members agree that WRRC is to be free of complaints, politics, and drama, all to be replaced with enjoyable, supportive, friendship building interaction.
So what does this mean in a practical matter? We recognize people have many different goals, skills, and objectives. Collectively, we intend to bring our individual skills together to lead training runs and social events throughout the coming years. We intend to connect people of all paces, abilities, goals, skills, and experiences levels to promote a positive running environment that allows people to get out of the co-op what they put in. We intend to meet as a group on Wednesdays and Saturdays to facilitate training runs throughout the year and we hope members will organize small group runs other nights of the week. Many people train for half and full marathons in the spring and fall and we support those objectives with training schedules. We offer long runs, hill workouts, track workouts, and many other social runs.
What does it mean to contribute? Perhaps you want to build a route or pace a certain time spot. Maybe you want to organize a happy hour. Maybe you want to put out the water coolers, bring chocolate milk, or bring a few bananas. Perhaps you want to organize a run on a off night or in an off location from the usual group runs. Maybe you have other ideas. The co-op is what its members want it to be. Be the change you seek.
What next? Join this public group on Facebook, follow us on Twitter, or email us. See our current training events on Facebook or Twitter. Share your thoughts and ideas with the group. You ARE the co-op. Then, start showing up!
Here's to a healthy, happy 2017 - 2018 running season. See you on the streets!
---